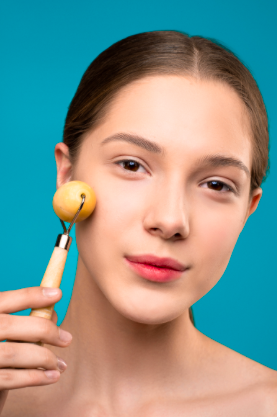 Ιn the past decade, we've seen remarkable entrances of revolutionary beauty methods and gadgets that are literally game-changers: microneedling, jade rollers, vibrating devices, ultrasonic skin spatulas, "vampire" facials, etc. This blog post will guide you though 3+1 benefits of gua sha.
Please note this post may contain affiliate links.
Perhaps the least known of these beauty methods and tools, at least from 2-3 years ago when it began to enter the Western beauty market, is Gua Sha. Gua sha is basically based on the ancient Chinese practice of "scraping" body skin, similar to acupuncture, to ease tension and release drainage. Facial gua sha treatments involve the use or an irregular shaped piece made of crystal for applying direct pressure to the face to stimulate blood flow to the area.
The practice is best done in the hands of a professional therapist but you can do it at home too, provided you know the right movements and choose an appropriate tool that will not irritate your skin much. As a result of a increased blood circulation to the area and lymphatic drainage, gua sha can yield the following benefits:
No.1: Plumper and younger-looking skin.
The mild massage motions involved in gua sha facials help trigger the production of collagen for smoother, plumper, and younger looking skin. If you have small fine lines and wrinkles, repeat use can relax the muscles so your fine lines look much less prominent. It targets nearly all visible signs of aging such as wrinkles and droopy skin (except age spots) all at once.
No.2: More vibrant complexion.
Even though technically speaking, gua sha doesn't exfoliate skin, it contributes to a more vibrant looking competition due to the fact that it boosts blood circulation and helps deliver more nutrients to the skin's surface, from the inside out. If your skin is looking tired or shallow, using this for a few minutes is enough to wake your skin up and make it look more vibrant and glowy.
No.3: Better penetration of skincare ingredients.
The one works in a similar way to jade skin rollers (in case you have used them before) and skin spatulas but with deeper and more noticeable effects. The mild massage movements help your skin cells absorb better any ingredients you apply on your skin–instead of letting them just stay on top. This will work especially well with moisturizers, gel-based masks, and night serums.
No.4: Helps with acne breakouts.
Even though gua sha was not originally intended for treating facial or body acne, some skin therapists report using gua sha on clients suffering with acne with good success. It's not exactly understood how gua sha helps treat acne but it seems to drain and flush out any toxins and stimulate skin rejuvenation for smoother and zit-free results. Initial treatments, according to skincare experts can aggravate existing breakouts but the person treated will start to notice that their skin improves a few days or a week following a gua sha session.
And if you are battling with both adult acne and fine lines but you can't find a method or tool that tackles both at the same time, you should definitely try gua sha out.
Skin Gym has amazing gua sha & other beauty devices that really increase circulation flow and you can see fast results as well! Try their super cute Rose Quartz gua sha tools!
Have you ever tried gua sha? How do you feel it compares to other skincare methods and tools? Tell us in the comments down below!